Farsite is a blockchain-powered sandbox MMO RTS game with elements of adventure in a sci-fi setting based on a post-apocalyptic story.

The story
Our new home. The last hope.
After a series of endemics gone under control led to unprecedented social and economic crises mankind's best minds were forced to develop a technology to allow for intergalactic flights with the sole aim to isolate species for building a better future.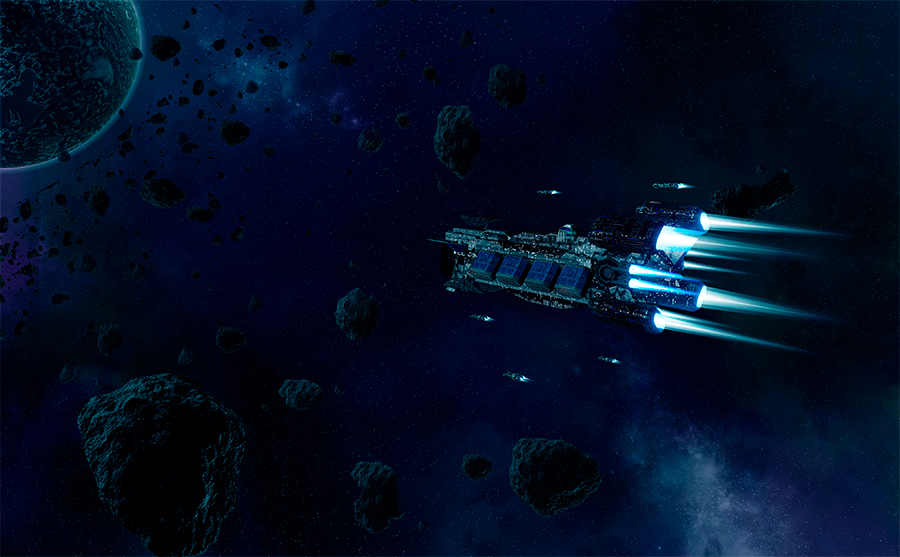 Survivors managed to travel to the farest places possible, totally unknown galaxies with immediate risks and opportunities yet to be discovered by adventurers. They elaborated the Ethereum 2 blockchain to grant inviolable rights for everyone and minted "Credits" FAR token as the only means of exchange in the new world.
With a limited amount of valuable resources available on Planets and Asteroids, the new socium has an aim to develop and explore in a highly competitive environment. That is the last hope for preserving humankind species.
The new Homestead.
Universe
Persistent universe with player-owned and self-balancing economics running in a thrustless environment.
Farstie gaming world (the Universe) is formed by Constellations (Groups of Stars) containing Stars (Planetary Systems), each with its unique set of Planets. Stars are connected with predefined pathways describing distance between them. Several Stars (Systems) may be united in a Constellation.

The first Constellation where all the players start the game named "Homestead". New Constellations will be discovered by players within time.
Player travel between Stars on a spaceships following interstellar paths in FTL mode that requires FTL Fuel (purchased with Credits). Movement inside a Star (between Planets, Asteroids, Gates and Stations) is absolutely free and does not require any Fuel but has a permanent risk of being attacked in usecure locations.
Constellations
Representing a season in the game, Constellations comes with a number of Stars containing Planets with a set of Resources along with Blueprints to be released in Crates.
Stars
Being a part of Constellations, Stars are forming the Universe with pathways connecting Stars to enable interstellar travel and exploration.
While some Stars have Planets (thus are referred to as Planetary Systems), others are just dangerous spots on a route to far away places.
Planets
Most Planets have Sectors to be acquired by players to build Bases and extract Resources. Planets contain valuable Resources that can be drained with a special set of buildings on Base. Most Planets are considered unknown and shall be first explored by players in order for their Sectors to become available for acquisition.
A Planet can be a source for Resources and a place to produce items. Explored Planets surface is divided into Sectors, those can be acquired by players to construct a Base for production and mining Resources. Each Sector has its unique gaming map.
Sectors
Every Planet surface is divided into Sectors, those contain Resources and provide players with a territory to build their Base. In order to construct a Base a Player shall acquire a Sector. Base is a set of connected buildings constructed in a Sector of a certain planet that allows for mining Resources and Minerals, refining Materials, building Ships, Modules and Ammo.
Gates
Gate is an entrance point to a FTL (faster-than-light) pathway to jump be Star.
Stations
Space station is a hub for all operations in a Constellation that allows for running a marketplace, items storage, Ships refuel and repair.
Asteroids
Asteroids and Comets are sources for Resources that could be collected without a Sector acquisition, only a Ship with a Mining Laser Module is required.
Glossary
Terms used in this guidelines:
Persistent virtual universe with player-owned and player-controlled economy running in a trustless environment.
Every item in the game is created by a player using materials found by a player. Production requires a Blueprint, Components, a Base on a Planet and some Credits. Components are made from Resources those can be found on Asteroids and Planets or purchased from other players.
Every item in the game is location-dependent. That means if a Resource was mined on an Asteroid it shall be hauled to a production site or a station to be used or traded.
All the items in Farsite universe are owned by players and could be traded freely on the open market. Ownership rights are ensured by the blockchain where every item is a token (NFT) stored in player's digital wallet.
Ship Hulls and Modules are the tokens created using a cNFT protocol with Credits locked inside. That allows staking 'em against loans in Credits and grants insurance for wrecked Ships.
Credits is the major and the only in-game currency. Almost every operation in the game requires Credits to be performed. Credits can be converted to FAR tokens (ERC-20) any time at 1 FAR = 1'000'000 Credits ratio. That ratio is hardcoded in smart contracts and will never be changed. FAR tokens could be used to receive the corresponding amount of Credits with the same ratio.
Original Blueprints and Credits are initially distributed in Crates that can be purchased in the Store. Limited edition Crates contain unique Blueprints that will never be created again.
Despite being in development for more than a couple of years already, the game is still in its early stages.
Building self-balancing, sustainable environment driven by players, custodians of the game.
Interested in Block Chain Game, Welcome to JBB.ONE